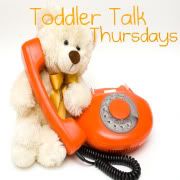 I came across this blog-hop and thought it looked like a fun way to meet other moms of toddlers!
Casey is 21 months old, and his favorite foods vary from week to week.
His current favorites are;
1. Strawberries. His favorite lunch / snack food right now.. he can't get enough of them! He can literally go through 1lb of strawberries in two days, which is craziness.
2. Broccoli. Seriously. This is actually a long term favorite, and something I know he'll always eat. It has to be cooked very soft, and he can eat it by itself.
3. Pizza. No surprise there, right? He likes pepperoni and mushroom, or pepperoni and pineapple.. no cheese.
His least favorite foods are;
1. Eggs. No matter how they're cooked.. scrambled, hard boiled, omelettes, with cheese, without cheese, it doesn't matter.. he wont eat them.
2. Fish. Like with eggs.. it doesn't matter what kind of fish, or how it's cooked, he will.not.eat.it. Not even tuna sandwiches.
3. Pasta. I think it's the texture he doesn't like.. but ever since he was old enough to eat solid food, he hasn't liked it. The few times I've dared to offer it, it's ended up all over the floor.
What are your toddlers favorite foods?
Click on the button at the top to join in!
Also, check out my personal blog;